"Liberty Trudges Through Injustice", a wet plate collaboration, July 21st, 2018. This collaborions was inspired by the painting at the Louvre "Liberty Leading the People" by Eugène Delacroix.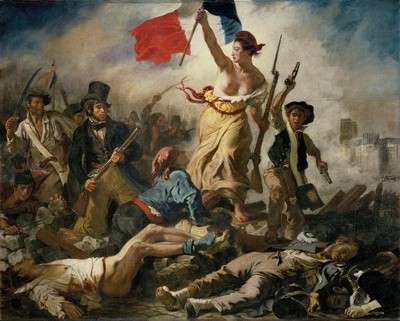 Fifty-three collaborators came together for no other reason than to create this image together. This wet plate could not come at a more poignant time in our nation's history. Lady Liberty and all that she stands for and represents is in peril. We must come together and overcome all challenges to our freedom and the principles that this country was founded on. I want to thank each and every person that contributed to this fabulous adventure. I am so blessed to be on this creative path with all of you.
"The tree of liberty must be refreshed from time to time with the blood of patriots and tyrants." - Thomas Jefferson
Carl Zeiss Tessar 300mm lens, Alessandro Gibellini studio camera, f11, 2 seconds of exposure, 8x10" black glass ambrotype in the historic wet plate process of pure silver on glass.
Shane Balkowtisch, Ambrotypist
Marek Dojs, Director
Michele Oster Renner, Wardrobe/Costumes
Cast:
Sabrina Hornung (Liberty)
Easton Freidt (Patriotic Boy)
Greyson Balkowitsch (Body)
Rachel Praus (Woman Bowing)
Andrea Andie Haman
Rissa Williams
Richard Loewen (Man w/ Sword)
Lance Loken
Eden Jackson (Soldier)
Kevin Tengesdal (Face Down)
John LaLonde
Derek Harper (Downed Officer)
Josh Knudsen Aleson
Rob Sandness
Adam Steen
Laura Barker
Jessica Gustafson
Steve Schirber (Blunderbuss)
James Kyle (Weapons Master)
Abby Balkowitsch
Mitchell Cottew
Lacy Perkins
Kithe Malsam
Jacek Dojs
Maja Dojs
Tony Fladeland (Flute Player)
Support Staff:
Tom Wirtz, Assistant w/ Camera
Moira McNichols, Liberty Styling
Doug Hanson, Ambrotype Consultant
Jason Lueder, Master Carpenter
Nolan Johnson, Videographer
Andrea Heidrich, Hair
Jenna Botner, Set Assistant
Chad Nodland, Photography
Paul Noot, Set and Art Design
Marcus Johnson, Photography
Louis Ronald Zurn, Photography
Pat Toepke, Prop Master
Dustin White, Writer & Poet
Melanie Kuntz Malsam, Make-up
Nika Ostby, Wet Plate Apprentice
Kyla Meadows, Make-up
Emily Brandt, Backdrop Manager
Angie Pember Brockey, Flag Design
Joe Gartner, Smoke Special Effects
Kevin Kirkey, Historic Props
Ivy Brown Jacobson, Hair
SUPPORTERS:
Lewis & Clark Interpretive Center, Props, Kevin Kirkey
Bismarck Historical Society, Mike LaLonde
State Historical Society of ND, Emily Ergen & Lindsay Schott
Bismarck Downtown Artist Cooperative (BDAC), Paul Noot