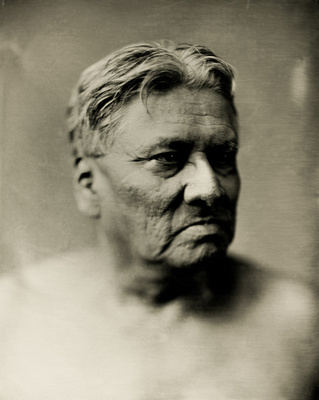 "Three Faces of Chief Crazy Horse", a triptych, Floyd Gene Clown, Sr. "Black Tail Calls You", Donald Peter Red Thunder "Crazy Horse" and Douglas Andrew War Eagle "Walks with Sacred Buffalo, of the Minnikojou Tribe. The Grandsons of "one of the greatest Native Americans Warriors of the 19th Century." These plates will be included with my series "Northern Plains Native Americans: A Modern Wet Plate Perspective" and archived by the Historical Society of North Dakota at the Heritage Center.
There is no known photograph of the great Chief. A 1934 sketch of Crazy Horse was made by a Mormon missionary after interviewing Crazy Horse's sister, who claimed the depiction was accurate.
The new book "Crazy Horse The Lakota Warrior's Life and Legacy" is now available.
https://www.amazon.com/Crazy-Horse-Lakota-Warr…/…/B01K97AWLK
8x10" black glass ambrotypes in the historic wet plate process of pure silver on black glass. Carl Zeiss Tessar 300mm lens, f4.5, 10 seconds of exposure, natural light through Northern facing studio windows.