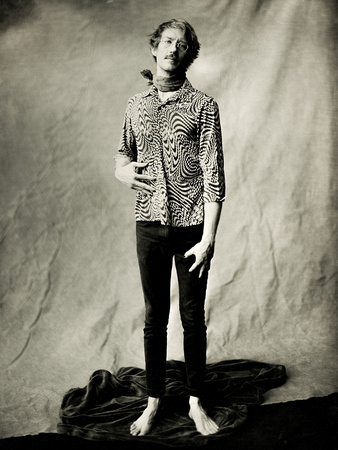 "Composing Darkness" and "Simply Richard", with the fabulous and talented musical artist, my friend Richard Loewen. 8x10" black glass ambrotypes in the historic wet plate collodion process of pure silver on glass. Richard Loewen was one of the first people to ever trust my camera and chemicals. That will never be forgotten.
Carl Zeiss Tessar 300mm lens, f4.5, 11 seconds of exposure, natural light coming through Northern facing studio windows. Styling and composition assistance by Maggie Belle Herr.
"Composing Darkness"
Words to accompany my wet plate of Richard Loewen
Plate #2718
By Shane Balkowitsch
May 7th, 2018
I find myself alone, searching for the notes that will release me,
Nothing seems in order, why does this struggle continue,
Just me and my box of strings, I have no other choice,
This need to create is like no other, a longing that I cannot explain,
The drink gives me momentary relief, but even that soon fades into oblivion,
My flower, my beautiful flower has wilted under this pressure,
As everything in life, time will consume all, there is no escaping it,
I have no choice but to continue to compose the darkness around me.
For only when my music finds its way to me, will I be free.