"The Capsizing of Humanity", June 17th, 2017, a wet plate collaboration eight months in the making. I based this work on the historic painting "The Raft of the Medusa" at the Louvre, one of the most horrific maritime events in history.
The Raft of the Medusa is an oil painting of 1818–1819 by the French Romantic painter and lithographer Théodore Géricault. Completed when the artist was 27, the work has become an icon of French Romanticism.
8x10" black glass ambrotype in the historic wet plate collodion process of pure silver on glass. The original plate will be curated by the Historical Society of North Dakota at the Heritage Center in Bismarck, North Dakota.
Carl Zeiss Tessar 300mm lens, f8, 2 seconds of exposure.
Digital behind the scene images by Chad Nodland.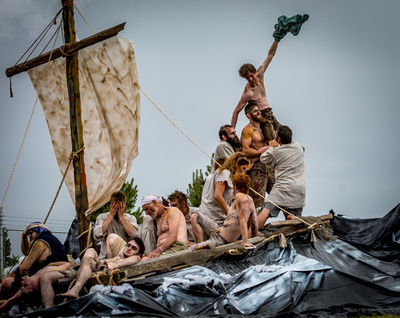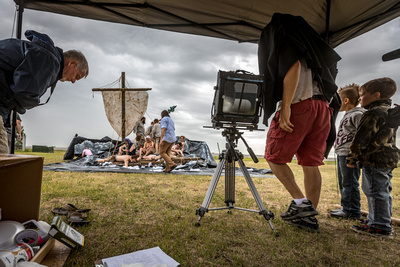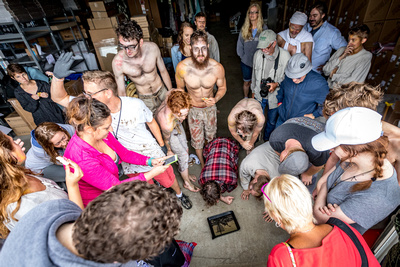 OFFICIAL LIST OF COLLABORATORS:
CASTAWAYS:
Lou Hafermehl
Noah Miller
Chad Balkowitsch
Richard Loewen
Tony Fladeland
Adam Steen
Kevin Tengesdal
Ben Pace
Adam Michal
Greyson Balkowitsch
Phillip Schultz
Brandon Wetch
John LaLonde
Morgan Drake
Abby Balkowitsch
(As Charlotte Picard)
SUPPORT STAFF:
Marek Dojs, Director
Mike LaLonde, Photography
Corey Carson, Photography
Moira McNichols, Make-up
Jason Lueder, Set Carpenter
James Lueder, Raft Carpenter
Melanie Kuntz Malsam, Make-up
Nolan Johnson, Videographer
John Sullivan IV, Wood Supply
Nika Ostby, Wet Plate Assist
Chad Nodland, Photography
Kim Olson, Set Assistant
Paul Noot, Artist of Water
Sabrina Hornung, Cyanotype Artist
Michele Oster Renner, Head of Sail
Linae Bieber, Head Costume
Nolan Johnson, Video
Andrea Heidrich, Hair
Angie Pember Brockey, Distress
Flag Designer
Dustin White, Writer & Poet
Chad Balkowitsch, Carpenter
Emily Brandt, Costume Assistant
Tom Wirtz. Assistant with Camera
Dan Miller, Fasting Collaborator
Nancy Willis, Water Assistant
Jeff Phillips, Set Assistant