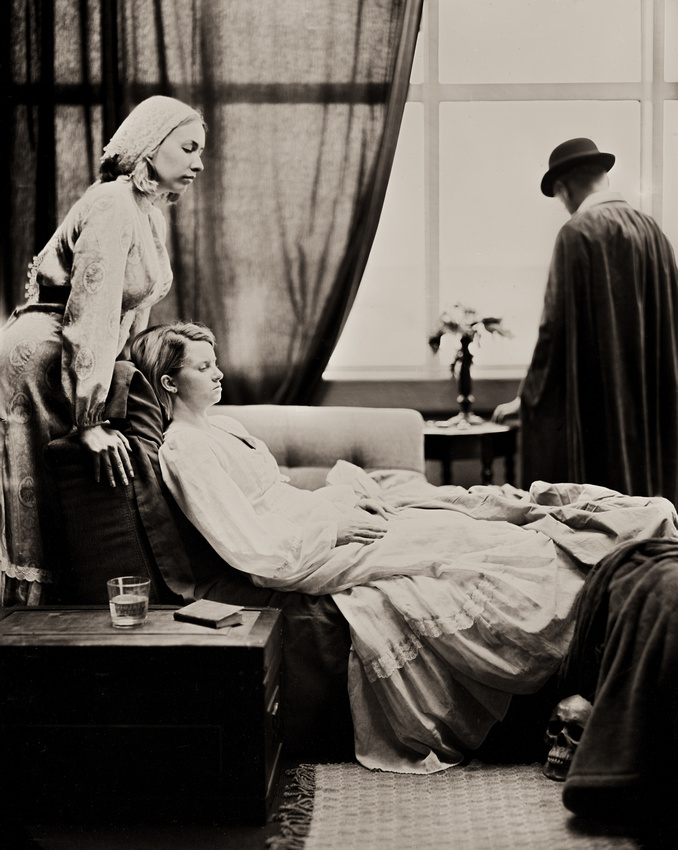 "Fading Away, Again", with Eden Jackson, Kathryn Jardee and myself, captured in the historic wet plate collodion process of pure silver on glass. The scene centers on a bedridden young woman dying of tuberculosis, a disease that has been held at bay with modern day vaccinations.
In 1858 Henry Peach Robinson (1830-1901) exhibited "Fading Away" (1858), a picture skillfully printed from five different negatives. This work depicted the peaceful death of a young girl surrounded by her grieving family. Although the photograph was the product of Robinson's imagination, many viewers felt that such a scene was too painful to be tastefully rendered by such a literal medium as photography. The controversy, however, made him the most famous photographer in England and the leader of the Pictorialist movement, which advocated achieving painterly effects in photography. George Eastman House is the curator of the original works.
Carl Zeiss Tessar 300mm lens, f4.5, 9 seconds of exposure, 8x10" black glass ambrotype, natural light through Northern facing windows and skylights bolstered by one continuous fixture, Nostalgic Glass Wet Plate Studio, Bismarck, North Dakota. Lens cap removal and set assistance by Tom Wirtz.