"Pity Party" with Puddles the Clown, captured in the historic wet plate collodion process of pure silver on glass. Taken at the Fargo Theatre in the green room before his performance on March 27th, 2018.
The world would be a better place if everyone followed his lead. We can all learn a lesson from this sad clown. We met as strangers and we left as friends. Thank you Puddles for trusting my chemicals and camera to your likeness.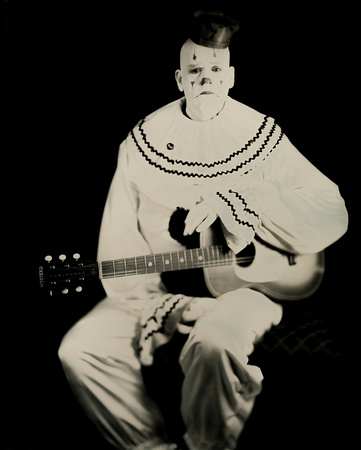 8x10" black glass ambrotypes, Carl Zeiss Tessar 300 mm lens, f4.5, 10 seconds of exposure, continuous flourescent lights. We left the text reversed just as the plate appears in person. Puddles thought it was important to show respect to the special process and large format camera that made the images. I cannot argue with that, so it will remain backwards. Puddles is wise beyond his years.
"If by chance some day you're not feeling well and you should remember some silly thing I've said or done and it brings back a smile to your face or a chuckle to your heart, then my purpose as your clown has been fulfilled." - Red Skelton